Hans Florine and Heidi Wirtz ~ Kalymnos, Greece - October 28th-November 3rd, 2023
7 Days of Climbing and Yoga with Hans and Heidi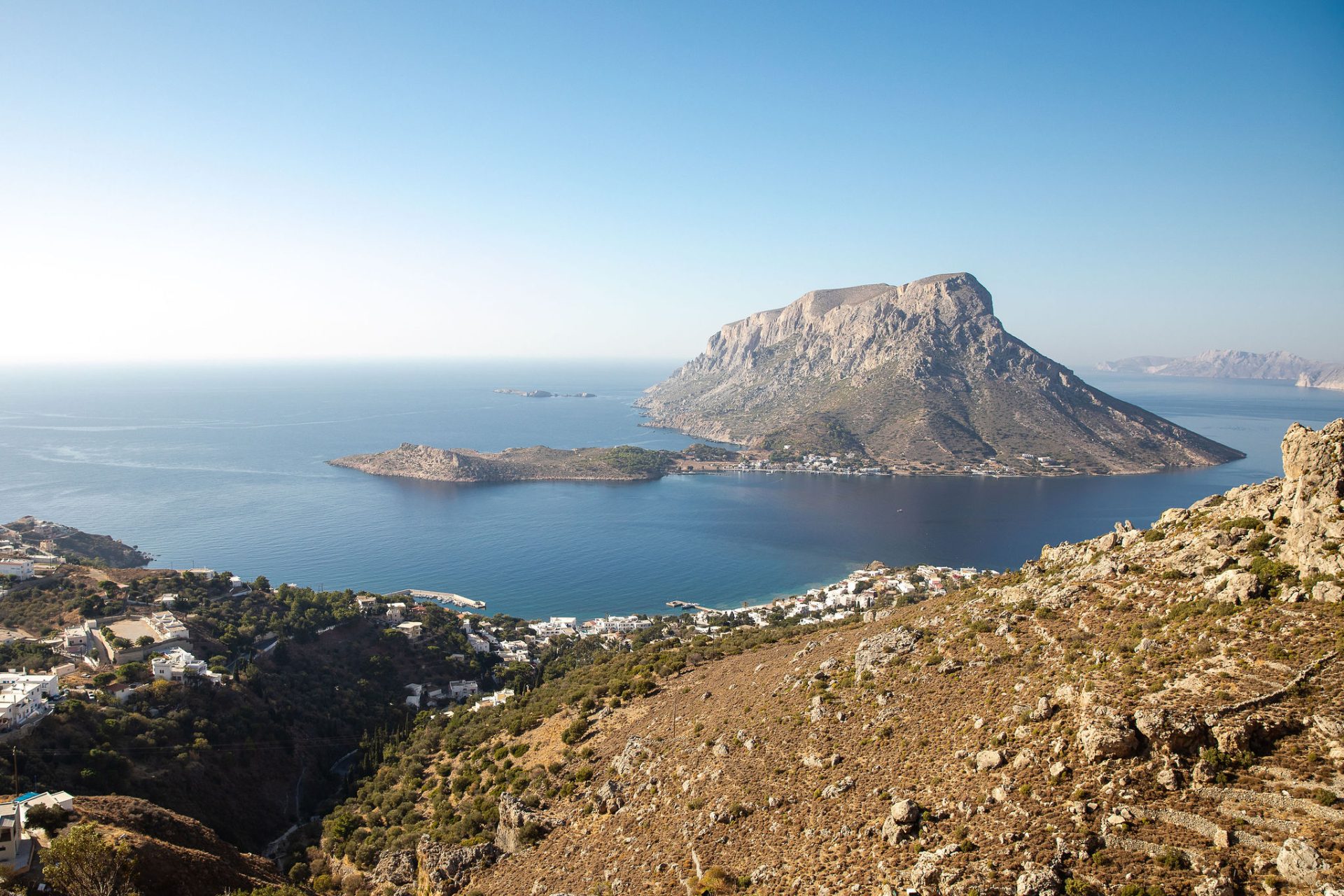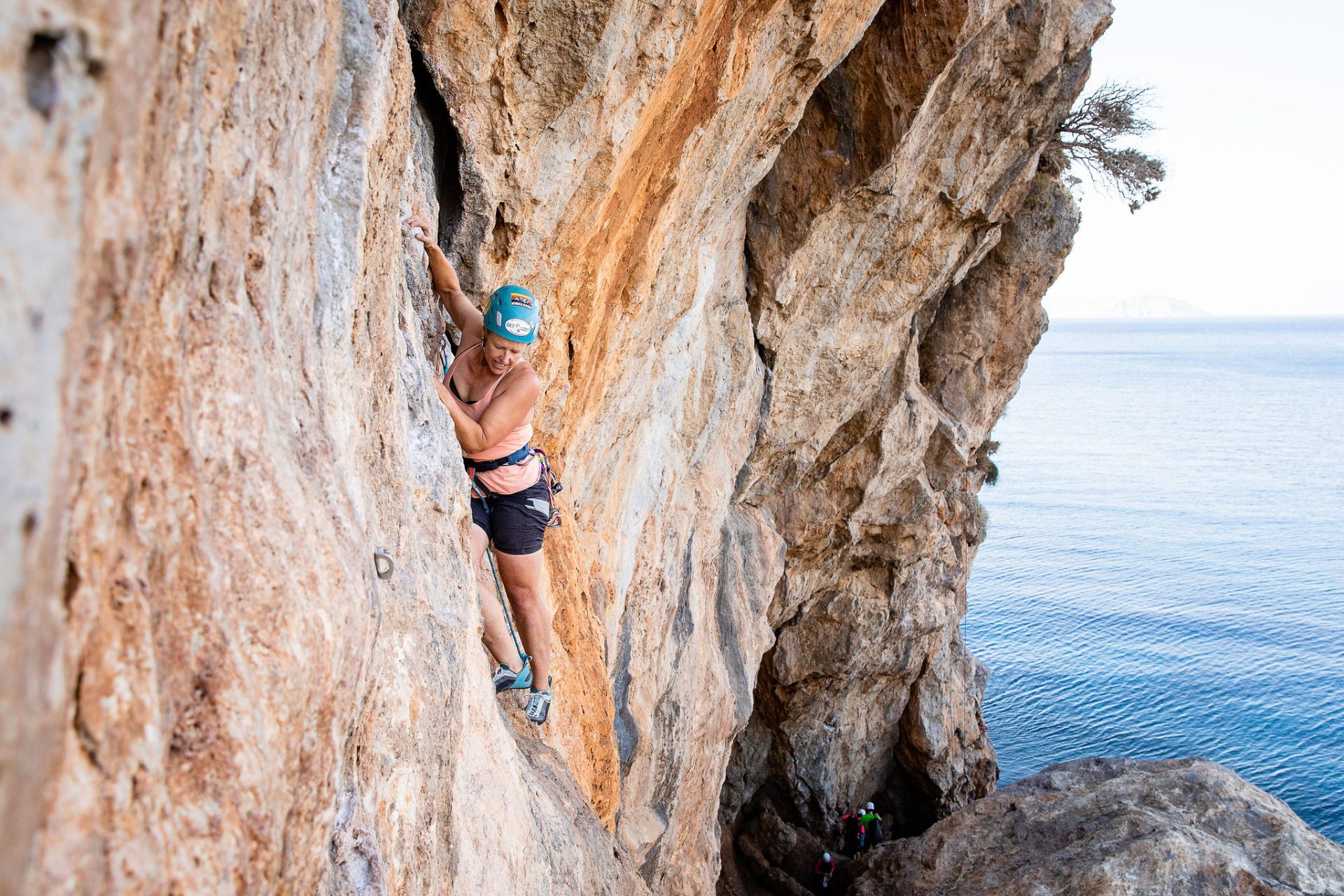 Kalymnos is a world-class sport climbing destination. It's a magical and beautiful place that any climber will soon fall in love with.
Why you should join us and why Greece is so special:
We keep the climber to guide ratio small for this trip with no more than 2 clients to one guide.
This trip is great for all levels as there are very easy climbs right next door to more challenging rock climbs at all crags that we visit.
You will be climbing with Hans and Heidi exclusively. They are both world class climbers that have decades of experience both on the rock as well as in the guiding and coaching world. We will work individually with people to help improve movement and proficiency in climbing. We guarantee that you will climb at least a grade higher by the completion of our week together on the rocks.
Heidi and Hans have taught hundreds of people the art of rock climbing. This is the perfect chance to learn to climb in a safe and friendly environment with amazing instructors.
We will keep our bodies happy with 3 yoga practices right on the waters edge to ease the stiff muscles from our climbing days.
This trip is also quite relaxing. There's just something about the beauty of the place and the fact that we all have our own accommodations with a sea view that seems to cause us to take things a little easier in our down time.
Both couples and individuals will love the beauty and serene atmosphere of this amazing Greek island.
Every room has a view of the Aegean Sea from our individual open air balcony. You can also walk right out your door and down the steps to swim in the sea!
There is great shopping in the town we are staying in.
There will also be time to explore the island by motorbike, car or bicycle.
For Those seeking additional adventure!
Multi pitch add on days!! Join us for an amazing day/s on the rock as we climb to the top of one of the beautiful sea cliff walls of the islands. There are numerous multi pitch options on both Kalymnos as well as the neighboring island of Tolendos. These will be a full day outing with no more than 2:1 guide to client ratio.  Sign up early as we have limited space for these days! **Housing is not included, however we can arrange this for you.
Additional climbing days!! The trip is 7 days, but you can contact us at info@earthplayretreats.com if you'd like to book additional days.
We will be staying at La Playa Botique Hotel in Masouri. Mediterranean style and scenic terraces seamlessly connect this beautiful property with the Aegean Sea and beach that is just steps below immersing its guests in an unforgettable beachside experience.
A world-class climbing destination, the Kalymnian landscape is rocky, with rock faces of unique quality for sport climbing, easily accessible within a few minutes walking time from most of the islands settlements and motorways, offering breathtaking views with the endless blue of the Aegean Sea.
Today the island has almost 2500 well equipped sport climbing routes for all climbing levels from easy routes for beginners to extremely hard ones for the experts. The island features a series of easy slabs, technical wall climbs, wild overhanging and climbs between stalactites. The majority of the routes are single pitch but several multipitch routes are available as well.
The people of Kalymnos are genuine, open-handed, warm-hearted people who will try to make your stay unforgettable.
Remote beaches, turquoise waters, limestone all around, fresh produce…this island is a paradise. If you like Greek food, you are going to love this trip! This retreat will feature seasonal local produce amazingly prepared in the Greek fashion by our lovely hostess. They even make their own olive oil and cure their own olives (of course).
Includes:
Private or shared room with your significant other. An additional fee will be charged for your partner based on accommodation, yoga and meals.
6 Breakfasts
2 Group dinners out on the town
3  Yoga Classes
4 Climbing Outings. We will tour you to the best crags that Kalymnos has to offer and be incorporating mindful movement and breath work into our climbing days.
One multi pitch day
Profesional photos included.
Free consultations on all logistics
Two chartered boat rides to Tolendos island
Not Included:
Transportation to Kalymnos
Transportation on the island. Due to liability, we cannot rent scooters or cars for you. You will need an international driving license in order to rent a car and also a motorcycle endorsement to rent a scooter.
Taxi ride to our accommodations.
Alchohol
Lunches
4 dinners
Any other items you wish to purchase while on vacation.
Tips for your guides.
Additional activities. We can help you book them. Please let us know ahead of time if you would like to book: Extra Yoga classes, Massage, Scuba Diving, Snorkeling, Horseback Riding or additional Guided Rock Climbing
International Speed Climbing Champion, Broke the Speed Record on the Nose of El Cap 8 times, Author and all around Amazing Human!
Hans Florine won the first International Speed Climbing Championships in 1991, he held the US Speed title eleven times, and the Difficulty title twice. Hans won ESPN X Games the first three years in a row. Hans is an All American in the Pole Vault. Hans broke the Speed record on The Nose Route on El Capitan 8 times over the past 27 years. Hans Co-authored the book "Speed Climbing" in 2003. Hans co-authored the book "On The Nose," an Amazon best seller, which marks his 100
th
 ascent of The Nose. In 2016 Hans was inducted into the California Outdoor Hall of Fame. Hans holds a BS in Economics with minors in Production Operations, and Human resources. Hans has managed one of the Touchstone Climbing Gyms for over nine years. Hans is a professional speaker, guide, author, and business/life coach. Hans created an annual challenge list in 2011 that still refreshes every year and has had over one thousand participants. His dedication to motivating and inspiring people to exercise and just get out is incapsulated in the online community 
www.DHTChallenge.com
 which he co-founded. Hans is the father to a 22 year old woman and 20 year old man.
AMGA Certified Rock Guide, Yosemite Speed Climber, Professional Climbing Athlete with first ascents all around the globe and Yoga Teacher
Heidi is an accomplished climber in all realms of the sport. She has been guiding for over 20 years, is an AMGA Certified Rock Guide and professional climber for La Sportiva and PMI Ropes.  Along with her passion for climbing she has taught yoga for climbers for over a decade. She works with people to get them back into the flow state and help them realize that this is a natural state of our being. We will work on the mat and on the wall to help us grow and develop.
This retreat is limited to 4 participants and spaces fill up quick, so book your spot today!
Our refund policy is:
90 days notice: Full refund minus deposit
60 days notice: 75% refund
30 days notice: 50% refund
Less than 30 days notice: No refund
We require that you purchase travel insurance for this trip. This will ensure that if anything unexpected should arise you will be fully reimbursed. Click HERE for a quote
Questions? Email info@earthplayretreats.com.